David C. McGaffey
Trial Attorney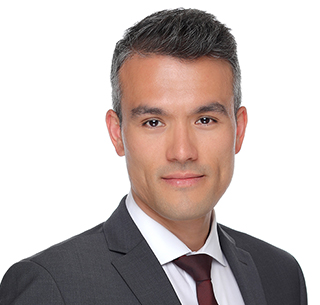 David C. McGaffey is a trial attorney at The Bickel Law Firm, Inc. with a practice focused on the prosecution of California Lemon Law claims against the major automobile manufacturers.
The great majority of David's cases have settled before trial; however, David has taken several lemon law cases to jury verdict. Notably, early in 2019, David tried Peters v. BMW, North America, Inc. in Kern County Superior Court. In that case, Ms. Peters had taken her BMW SUV in several times for repairs related to chemicals spraying from her air conditioning unit onto the inside of her windshield, amongst several other defects. This chemical spray obscured her vision at night and caused a noxious stench to attach to her clothes.
BMW North America retained Lewis, Brisbois, Bisgaard & Smith, a national law firm of over 1,400 attorneys, to defend it against Ms. Peters' allegations. Trial counsel on the case for BMW were Roger S. Raphael and Robert W. Farrell out of the Lewis Brisbois San Francisco office. (Mr. Raphael and Mr. Farrell each individually had over 35 years of experience as trial lawyers for a combined 70 years' experience). BMW's senior attorneys argued that the vehicle problems were caused by Ms. Peters's lack of maintenance of the vehicle and tried to blame Ms. Peters for the defects. In trial, David successfully argued that technicians did not do enough to test, fix, and clean out the vehicle's ventilation system, and the symptoms of the defects made the vehicle unbearable to drive. This resulted in a jury verdict for Ms. Peters, and BMW was ordered to pay full restitution to Ms. Peters, take back her defective vehicle, and pay her attorney's fees and court costs.
David was born in Los Angeles and grew up in the San Fernando Valley. While in high school, David played trumpet in marching band, jazz band, and several other ensembles. David then went on to earn his Bachelor's degree in Political Science from the University of California, San Diego. While in college, David attended the UCDC Academic Internship program where he worked as an investigator for the Public Defender Service in Washington, D.C. It was here that David developed his interest and skills in advocating for underserved individuals.
David earned his Juris Doctor at the University of San Diego School of Law where David competed with the National Mock Trial Team and USD's Willem C. Vis International Commercial Arbitration Moot Team (VICAM). David also worked as a PTLS Certified Legal Intern (CLI) for the San Diego Public Defender's Office. As a CLI, David represented clients in the full gamut of criminal litigation hearings, including trial and post judgement sentencing. David successfully defended many of his clients from frivolous prosecutions and achieved a full acquittal for one his juvenile clients in trial.
Prior to joining the Bickel Law Firm Inc., David litigated civil contract claims, earning significant experience working on high-value cases and successfully prepared dozens of cases for trial. David also obtained hundreds of judgments in favor of his clients. Now, at The Bickel Law Firm, Inc., David's practice combines many aspects of his previous experience in criminal law and civil litigation to obtain highly favorable results for his clients in lemon law cases.
Outside of the office, David enjoys travel, running, and an occasional beer.