John P. Myers
Trial Attorney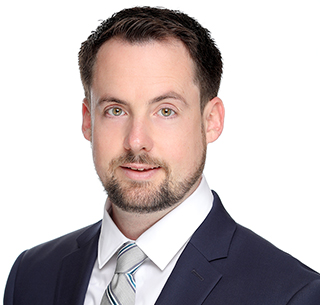 John P. Myers is a trial attorney at Bickel Sannipoli who has successfully litigated lemon law claims in state and federal courts across California. The great majority of John's cases have settled for a statutory repurchase under the Song-Beverly Act. In 2019, John successfully tried a lemon law case against Toyota Motor Sales, U.S.A., Inc. to a unanimous Plaintiff's verdict for a maximum awardable civil penalty under the lemon law.
John attended the University of San Diego School of Law where he served as the Managing Editor of the San Diego International Law Journal. While in law school, John was an active member of the Phi Delta Phi International Legal Honor Society and the International Law Society. Because of his interests in international law, space travel, and disruptive technologies, John extensively researched current property law and how it may interface with currently developing methods to mine asteroids. The result of this research, John's comment Extraterrestrial Property Rights: Utilizing the Resources of the Final Frontier, was published in the 18th Volume of the San Diego International Law Journal in 2016 and has been cited by numerous esteemed publications such as the Stanford Journal of International Law, the Virginia Law Review, and the William & Mary Environmental Law and Policy Review, among numerous others.
During law school, John completed a year-long externship with the Office of Chief Counsel for the Internal Revenue Service and represented the Commissioner of the I.R.S. at trial before the United States Tax Court. This experience confirmed his passion for litigation and strengthened his resolve to commit to a career that would benefit his fellow Californians.
Prior to being an extern with the Office of Chief Counsel, John worked as a pro bono volunteer with the Volunteer Income Tax Assistance Program. He helped individuals from varied backgrounds with the tax filing process, using his talent to explain complex legal issues in a simple manner.
Before attending law school, John was a tenured English teacher in the New Jersey public school system. During this time, he started honing his professional skill set through his role as a union representative with the New Jersey Education Association. John was elected to serve as the chairman of the Pennsville Education Association's Legislative Action Committee, which organized meetings with state legislators in order to advance the teachers' agenda in the legislature. In addition, John was chosen to serve as the Treasurer of the Salem County Council of Education Associations. It was during this time that he discovered his ability to successfully advocate for others, and he decided to pursue a legal career.
John earned his B.A. in English from Grove City College in Grove City, Pennsylvania. During undergraduate school, he was a teacher's assistant in the English department and tutored first-year students who were struggling in their writing and literature courses.       
John is happily married to his spouse, Robert, and they enjoy hiking, going to concerts, and traveling. Their favorite hikes include the Grand Canyon, Palouse Falls in Eastern Washington, and Mission Trails Regional Park in San Diego. In addition, they are always looking for new dog beaches and parks to explore with their Shih Tzu, Elliot Whitman.