Sharona Silver
Trial Attorney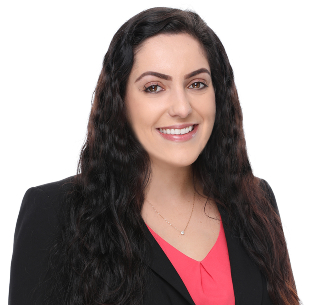 Sharona Silver joined Bickel Sannipoli as a trial attorney shortly after her admission to the California Bar in the summer of 2019. Through her tenure at the firm, Sharona has worked tirelessly to obtain many highly favorable statutory repurchase settlements for her clients. As a trial advocate, Sharona has taken and defended many witness depositions and has tried multiple Song-Beverly actions to jury verdict.
Sharona began preparing herself for the practice of law in high school where she excelled within Lincoln High School's speech and debate team, competing in various competitions throughout the state of California. During her time with the team, Sharona learned the fundamentals of oral argument and public speaking. Sharona pursued her Bachelor of Science in Pharmacological Chemistry at the University of California, San Diego (UCSD). Despite her heavy coursework, Sharona served on the executive board of the Community Law Project as well as several other boards of political organizations, ultimately sending her to Washington D.C. to represent UCSD at various conferences. 
As a student at University of San Diego School of Law, Sharona excelled in both oral arguments and legal research and writing, receiving the highest grade in oral arguments in her first year and a grade of high honors in both her advanced legal writing course and her negotiations class. As a law student, Sharona worked at various law firms, including Paul, Plevin, Sullivan and Connaughton, LLP, the Law Office of Michael D. Eisenberg, and the San Diego Public Defender Office. At those offices, Sharona gained varied and unique legal experience, including the drafting of substantive motions and memoranda for trial attorneys and assisting in trial preparation for cases involving labor and employment law, intellectual property, and criminal defense. 
Sharona also gained invaluable legal experience as an extern for the Honorable Susan Y. Illston in the Northern District, United States District Court in San Francisco, California. Under Judge Illston's tutelage, Sharona became increasingly familiar with the laws of civil procedure, the rules of evidence, legal analysis and advocacy. From the externship, Sharona learned how a judge reasons and processes arguments from the bench, and Judge Illston's guidance continues to play a significant role in Sharona's approach to practicing law. 
Sharona is a firm believer in assisting individuals who stem from disadvantaged backgrounds. She has dedicated numerous hours to volunteering with the California Innocence Project and the South Bay Domestic Violence Clinic. She continues to volunteer her free time to causes she is passionate about, including criminal justice reform. 
Although she is a Bay Area native, Sharona is proud to now call San Diego her home and enjoys hiking and working out in the beautiful weather. She also enjoys traveling and dining at new restaurants.